It was June. I was sixteen, and I was miserable. From my avid reading, not to mention  glimpses of the lives of friends, I was only too aware that this was supposed to be the happiest time of my life. But at sixteen I knew I was a hopeless failure.
When the popular, intelligent boys wanted a friend, or a coconspirator in political disruption, they chose me. But as soon as a dance loomed, they walked straight past me to choose the pretty, popular, uncomplicated girls.
After my beautiful, theatrical aunt gave me a pastel blue, heavily beaded evening bag, to mark my important sixteenth birthday, I stuffed it at the back of a drawer, curled up on my bed and wept wretchedly. How could she imagine that there would ever come a time in my life when I would need such a bag?
It seemed the final insult when my artist mother decided to seize the opportunity of having her daughter home from school to spend the summer painting a nearly life-sized portrait of me in a billowing white ball gown, set against a forest background. What was she thinking of? Did she know the misery I felt at being continually rejected? I do remember her muttering that she hoped someday I would be glad of the picture as a remembrance. How likely was that?
Because I could only spend so many hours of the day reading War and Peace, I capitulated ungraciously. Then began the agonizingly boring afternoons settled in Mother's Victorian armchair, bought specifically for portrait sitters, staying still, watching the hot sun creep across the dark, varnished studio floor, smelling the evocative scents of linseed oil and piney turpentine, attending to each slight breeze in the forest outdoors, hearing a distant bluejay and wishing I too could be outside. My mother hurried across the room, twitched the frothy white dress into place, looked over her glasses at me without seeing me at all and sighed. "I do wish you could keep still, Peri."
I could see that my mother was dissatisfied with the beginnings of her ambitious work, planned for exhibition in a Royal Academy show. Now, she had an idea. She loved peonies, and had already used them in her pictures. Now she suggested that we go to the Sheridan Nurseries planting fields beyond Clarkson, to see if the flowers were blooming yet, a scheme she knew would please me.
While I got out of the car, looking for someone to ask whether we could buy a few flowers, she waited in the car, feasting on the masses of pink, white and carmine blooms. In all the fields, there was only one immigrant laborer, stooped over a wheelbarrow. I'm not sure the man even understood my request. But he nodded, and motioned me to follow him. First he pointed to a shell-like pink flower and raised his eyebrows in question. "Oh, yes, please." He cut one of these, and then another, and laid them across my arm. Then he motioned me to follow him as he slipped along the crowded aisles of fragrant flowers. What about this one, his eyebrows asked. Without waiting for an answer, he clipped a wine-colored one, and added it, then he chose shaggy deep pink ones, and after that swan-like white ones, with tiny crimson veins of blood at their hearts. Surrounded by loveliness, in the sunlit brilliance of noon, we walked over the warm earth. By now, my mother, reasonably fearing that the many flowers would be too expensive, was trying to call me back. But I could not turn away as the man, smiling a little now, laid flower after flower in my arms, graciously, appreciatively, as if I were a princess. At last, I could hold no more. Bees circled my head, seeing more blossom than girl.
When I pointed to my purse, the man standing tall beside me shook his head. When I said thank you, he barely listened, turning back to his work.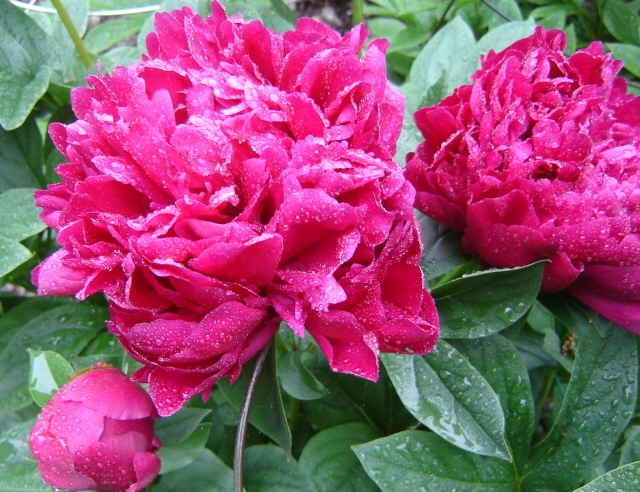 Back home, the cloying scent of peonies filled the studio. The next afternoon, as I resumed my seat in the Victorian chair, my mother slipped off her stool, chose a single dark peony, and laid it across the white ball dress.  At last the picture worked for her. Meanwhile, after the moments of beauty she so craved, the girl had an intimation that she might indeed, someday, be glad of the picture as a remembrance.