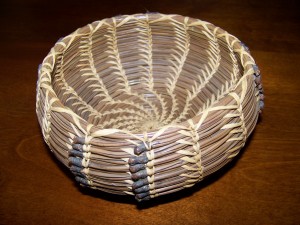 "We can only get rid of this anxiety by being content to miss something in almost everything we do. We cannot master everything, taste everything, understand everything, drain every experience to its last dregs.  [Thomas Merton No Man is an Island, quoted in Stephen Cope's The Great Work of Your Life]
In passing, I loiter before exciting books I likely won't read, apologize to my loom because the treadles rarely dance any more. I thought I would be learning Chinese, surely would be going back to try again to understand Mathematics.
"We cannot master everything…" Merton's wisdom has a bitter taste to me. Turning my face towards the sharp, but tonic, winds of old age, learning to accept finality with grace seems to be the ground of my practice now. Often I celebrate what I have tasted and understood and learned, but oh, there are times when I long for the trails I walked so easily before. So reading Merton's wisdom caught me up short.
Fresh from reading this quotation, by chance I turned to Linda Lear's introduction to her fine anthology of Rachel Carson's work, Lost Woods – The Discovered Writing of Rachel Carson. And reading Lear's sketch of Carson's trials, surely taken from the intimacy of long years of living with her subject, struck me. As Lear says, it was heartrending to read of the nearly impossible burden "of family responsibility and emotional demand that prevented her from achieving the corpus of work that she dreamed of producing, and had the talent and vision to create." Rachel Carson supported herself, her mother, her sister, her sister's two daughters, and the beloved grand-nephew she adopted in 1957. For fifteen years she worked for the US federal government as an aquatic biologist and editor. As well as the "pace and pressure of her life", Carson was "naturally a slow and methodical writer, who revised endlessly." Before she succumbed to cancer she had plans for at least four other major works.
"Being content…" And so I turn my face to today's rare December sun, stroke the dear old grey cat who basks in my window, think with deep appreciation of Rachel Carson's courageous and remarkable achievements as a teacher and advocate on behalf of nature. I think too of a lovely, new, young friend, Maikah, who is making the pine needle baskets I will not get around to.