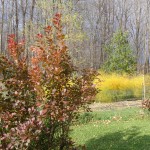 Dreamtime. This is the welcome time, hovering between Autumn and Winter. The gardens have been put to bed under a blanket of leaves. Even the lingering golden asparagus fronds have been clipped and burned.
Next week, with the end of gun season, the hunting frenzy will be over and the remaining disoriented deer will regroup and step closer to us again. Meanwhile, the coyotes wait to see what this winter will bring them. The other night, when Barry slipped out on the porch he heard a tumult of cries, more than he had ever heard before, far away on the ridge that overlooks our valley,
If there are intimations of harshness, of a stripping down to this waiting time, there also is a surprising beauty to it  Milkweed and aster seeds drift in the sharp breeze. A dusting of snow sparkles on the pines we planted near the house ten years ago.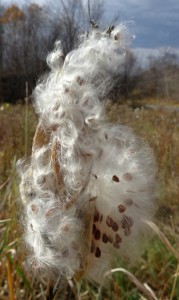 Indoors, the fire's burning. It's almost time to draw nearer, to gather up the pile of books I've been saving. I'll want to tell you about them soon. Yet still I linger, loitering through the valley, while the footing is easy, feeling the sting of the wind on my cheeks. Unwilling to head in, I slip over to the bay to see if the small, precious raft of ducks still bobs in the open water. Wait just a little longer. Still reluctant to go indoors, I sink down on the front steps to delight a while in the whir of chickadees' wings as they pass on their way to our well-filled feeders.
Soon.