Nature Writer Edwin Way Teale
In the tumultuous years after I left the beloved small woods where I grew up, I moved to the city for university, fell in love, married, and had two sons. In seven years we moved seven times, briefly experiencing both northern and south-western Ontario. Yes, as a child I was passionately engaged in the nature that surrounded me but the subsequent years had blurred this kinship. Was it any wonder that, by the time Barry and I moved to the little farmhouse at the Foley Mountain Conservation Area, I was overwhelmed?
In his new job as the first area supervisor of the Foley Mountain Conservation Area Barry was engrossed in developing nature programs for the conservation area and planning trails. This meant I had chunks of time when I was free to explore on my own. Living with wildness was what I had longed for and yet I found the richness of an 800 acre park daunting.  What was I to make of these wild acres of ridges, ponds and fields and forest which surrounded our home?
On one of my first trips through deep January snow, I traced evidence of the white-tailed deer herd we knew wintered deep in the park and wanted to know more. I saw the green and gold lichens on the sides of the big old oaks and needed to learn about them too.
There was a splendid loneliness to my surroundings but I soon found I needed help to understand what I was discovering. And I also needed a kindred spirit. All this and more, I found in the late writing of Pulitzer Prize winning nature writer, Edwin Way Teale. It began with A Naturalist Buys an Old Farm. Here Teale tells the story of finding and coming to know his "perfect habitat for two naturalists," the one hundred and thirty acres of Trail Wood in north-western Connecticut. Exploring my surroundings began to feel like sharing rambles with Teale and his wife, Nellie. There was a freshness to his slightest observations. His keen interest in everything from passing clouds, to an intimate aquaintance with birds, to observations of stars and insects fit exactly for me.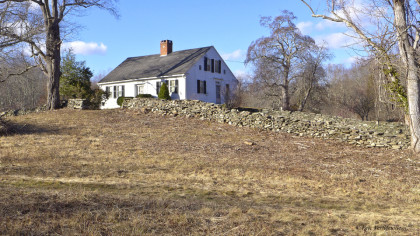 Published four years later, A Walk Through the Year, Teale's last, and finest, book became even more important to me. It was not so much the interesting details in this journal of outdoor days which I found, and find compelling–everything from pond creatures, to the varying songs of white crowned sparrows, to a melanistic buck, like the one who lurked in the deepest woods at the park.  What matters most is the naturalist's invitation to see nature as a beloved home.
**A few years ago, I found special accounts of a fellow writer experiencing Trail Wood and Teale's writing cabin there. http://writingcabin.blogspot.ca/