Yesterday afternoon, both wanting and not wanting to find signs of autumn, I climbed the big hill beyond our valley and walked on through the woods to the nearest heron pond. When we first came here a decade ago, this very old pond was deep enough to float a canoe. Now I am dismayed to find that it is almost drained. Clearly this is a depression that is no longer maintained by the solitary beaver who once inhabited the meager lodge on the far shore. I was expecting to see the surrounding swamp maples crimson as in other years. But this time their roots were high above the remaining water and there was no turning yet.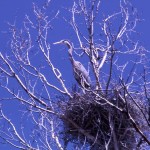 As I stood by the green verge, a host of leopard frogs skittered protesting into the soupy pond water. I stared towards the far end of this long pond, where once twenty heron stick nests were mounted precariously on branches of dead elms. Over the past few winters, strong winds had tumbled most of these. Today, there remained only the three in which the great grey birds had raised their ungainly chicks in early summer. Indeed, as I stood staring into the distance a single remaining heron rose up grudgingly, clearly reluctant to abandon such excellent hunting. As I watch she shifted only slightly away from my unwelcome presence and sank down on great, folded wings to begin again.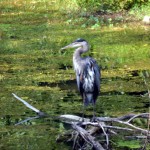 From a slight bay further up the rocky shore eight wary, silent Canada geese drifted slowly into the center of the dwindling pond, followed by two very small ducks. Well, enough. All I could do was quietly remove myself and restore this peaceful scene/gathering. Change was crowding in around me. Too soon, too soon, called young flickers as they flitted through the woods, heading south. Right now. Right now, clamored the blue jays dipping down to the burr oak's acorns, scattered under the tree.