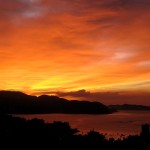 The alarm dragged me awake at six. This was the morning of this bleak winter that felt like one too many. Maybe it was time to take a day off. Hide under the covers. But then, from some deep place, things began to rise up that make me smile.
It began with the Benny Goodman tune I had heard the night before.  Even before I sat up, "Sing, sing, sing, sing" began dancing in my head. Reluctantly, I peeled back the red flanelette sheets. From a still-dark corner of the bedroom I heard a cheering rattle. "Now you're singin' with a swing." The racket came from Matty, our scrawny old bluepoint siamese cat. Wonderfully, she was playing with shoe laces once again, something she hasn't felt up to for weeks. This racket is her contribution to making sure we get up and stay up, so we can get to her breakfast.
Pulling up the blind, I was reassured to see Venus, bright and high in the eastern sky. Surely this meant that one of this year's rare, clear days was ahead.
"Everybody's got to swing." As I stumped around, trying to ignore the icy floor, pulling wool socks from the top drawer, Barry announced happily "Oh, I forgot to tell you… The other morning, when the school bus got to where the water runs out of Christie Lake (would you believe it's still open there) we saw a Bald Eagle—with a very white head. I stopped the bus and everyone rushed over to see. We got to watch him lift off out of his tree."
Magnus, the red dachsund, now also up and running, did a little happy dance at my feet to remind me that it was time to get the show up and running. How could I resist dancing back at him, as he lead the way towards the kitchen? "Now you're swingin' while you sing."