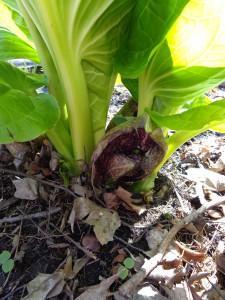 From my earliest memories, skunk cabbages have been a big part of my spring. Where I grew up in what is now Mississauga, my father took me to visit the mysterious odiferous spathes that emerged from the wonderful swamp at the back of our land. Very quickly, and before any other wild plants bloomed, enormous green leaves thrust up to surround the skunk cabbage's heart.
When my father knew he would have to leave his beloved forest home, somehow he dug  two plants from the squelchy land and brought them to us at Foley Mountain. Here we planted them in a suitably mucky place and hoped for the best. Their adaptation to their new home has been slow, but every spring when I visit them they seem as splendid as ever.
Our son Jeremy lives near Clarkson's fine Rattray Marsh. Some springs ago, we were prowling the nearby streets and discovered a treasury of these special plants, flourishing in a wetland at the back of a house. Within a few years, though, we were dismayed to find that these had been eradicated.  In a high wind a tree had fallen across the cabbages. This must have been all the owner needed to decide to "improve" the land. To our dismay, once the tree had been removed, the ground was tilled, drained and sodded, leaving no hint of the handsome, mysterious skunk cabbages
This year, for the first time, I was happy to see that the Foley Mountain plants have thrown a few babies. And that is a very good thing.
**Some swamps in our area are filled with skunk cabbages, but this version in far smaller and less dramatic than the ones I grew up with.
***For more information on skunk cabbages