Early in our long, anxious search for a place where we could live out the rest of our days in content after we left Foley Mountain, we began buying and making small presents for the as-yet unknown new home. Shuffling through such things as several towels with leaping deer woven on them and a small quilted Amish diamond wall hanging was heartening. Amused, we recognized that at 59 we were building a hope chest for an unknown future.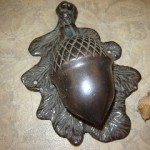 Late one wet November day we were rummaging in a handsome Wakefield gift shop when we came upon a door knocker shaped like an oak leaf, rapped by a fat acorn. "That's it," Barry exclaimed. Prophetically he added, "Our new home will have something to do with oak trees. This knocker will bring us closer to finding it. I know it."
At that time, his belief seemed absurd. Although we found many pleasing houses in our price range, none of them had the land we were hoping for. None of them appeared hospitable for oak door knockers.
All the same, the door knocker joined our collection, waiting, as were we, for a place that could compete with a home surrounded by 800 wild acres.
However, it was to be another eight anxious, discouraging months before we stumbled upon land so compelling that we couldn't turn it down. When we found a large burr oak standing guard over the spreading water meadow that wound through the valley behind our house site we were hardly surprised. Ahead of us there were many adventures before our house was built at Singing Meadow. Through them all, I held onto the knocker (a sign to me of hospitality to come) and the lime green, shaggy-capped acorn I found at the foot of the oak.