There's been a shift this year that's giving us joy. It's that perilous time when instinct urges female turtles from their swamps, leading them to search for soft sand, where they  scoop out holes and lay their eggs. While it's a wonderful thing to experience this migration, it is also a time of dread. watching a craggy female snapper, her back green with pond growth, ponderously creep actoss a highway fills us with dread.
Too often in past years, we have seen craggy snapping turtles, backs green with pond growth, glistening painted turtles, or domed-shelled Blandings turtles set out on a ponderous journey across a highway, only to end up as smashed, shells and wounded bodies. Occasionally we have seen men deliberately swerve to destroy them, as they do with snakes.
This year, so far, things have been different. The turtles we've seen have made successful journey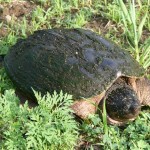 s to lay eggs. We haven't seen the maimed roadside corpses of other years. Could this be an indication of a paradigm shift? The egg-laying turtles we see now are smaller, younger by far than the massive wonders of other years, it's true. But it seems that, at last, when we feared there soon would be no turtles to delight us, there is a new care among drivers.