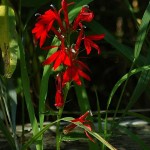 Counting wildflowers is a game we've been playing since we lived at the Foley Mountain Conservation Area where we used it as an excuse to visit a special wetland where the cardinal flowers bloom.
Now we live at Singing Meadow we've made it a tradition to identify and count the number of wildflowers blooming on the trail which meanders through our wetland. This count takes place as close to July 1 as possible. In recent years we've been joined by our summer neighbors, Alison and Bob Ball. Spending a couple of hours on a high summer afternoon finding species brings us close to the land in a way that simple walking couldn't.
This simple, happy, summer game begins on the mowed sides of the Balls' long driveway, where, in friendly rivalry we make a surprising number of the afternoon's finds. This is never a scrupulously accurate count. There are the usual enthusiastic debates about whether a towering Scotch thistle, in bud, but not in bloom, can be counted. Over my shoulder, after they've consulted their guidebooks, I hear Barry and Alison agree simply to call the pretty low-growing, white-flowered plant "a bedstraw",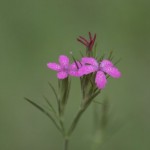 Bob, more of a hunter than the rest of us, cheerfully galumphs down into the sloshy field to fetch an example of hemp dogbane, which is identified by its white fluffy flowers and red stems. Barry crouches to point out a tiny Deptford pink.
Meanwhile, I'm distracted by the summery sound of a late wood peewee and the insistent cries of a nearby nest of baby bluejays. But then, standing still, I discover an array of clovers, pink, white, yellow, tall and short. Long ago I learned that the best rule for finding is to stay still and let things come to me.
Almost overpowered by the heavy scent of milkweed, I am struck, as I always am, by abundance beyond counting in the long, hidden meadow I call home. In the interests of simplicity, on this day we don't count trees, shrubs, the sedges, which feed many of the meadow's butterflies. We also omit the head-high swaying grasses which enclose us as we head down into the wetland. Accompanied by the gunking of bullfrogs, we add plantains to our lists. As we nail the plantains, both English and Common, Alison exclaims again about how many of plants we are finding are actually non-native. More disturbing, is the horrible dog-strangling vine, which is spreading fast in our area. Nobody cheers when we find its minuscule, purple flowers among the engulfing tendrils.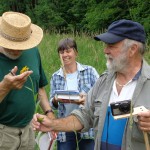 Down by our tiny pond, we find a first, virginia creeper, actually in flower. Because of this year's slow, cold spring, some of the plants we hope to find in flower are a few weeks away from blooming, while some, like the creeper are late enough to still present blossoms. Very apparent, as we clamber around the pond, is the otters' tunnel-like path down to the shore.
Over the decade we've been counting at the beginning of July, we've found a total of 52 species. This time, after we follow the trail back up to our home, along with remembrances of a beautiful day, when we tally our finds we come up with a respectable 42 species.