At a time when none of autumn's brightness remains, I'm loving our witch hazel. Although it's only a common
hamamelis virgininiana,
this five foot shrub has history for me. The haunting, pure fragrance, unlike any other, has meant late autumn for me since I used to be cheered by the one growing at my childhood woodland home. Much later, when we lived at
Foley Mountain
I was pleased to find witch hazel sprouts listed in the catalog of a native tree-loving nurseryman, now, alas, long dead. In his description I read that the plant I loved for its mysterious, ribbon-like yellow flowers in late autumn was a common astringent, often used to treat insect bites and sunburns. Thinking I could watch over it there, I planted one near our dooryard so I could enjoy its subtle perfume often. Unfortunately, I neglected to tie a cautionary tag on the shrub with orange survey tape and when it was only a metre high, an overzealous summer student gouged the sapling badly with a lawnmower. In a fit of inspiration, Barry fetched his roll of duct tape and wrapped the wounded stems. Neither of us thought the taped witch hazel would make it through the winter, but to our surprise, next spring it threw out new shoots. In fact, although it never prospered, it lived on until we had to leave the park. Not having another source, and knowing that the next supervisor had no interest in a bush which only comes into its own in autumn, Barry dug the witch hazel up and we planted it at
Singing Meadow
. One of the things that impresses me about this mostly unassuming small tree is its sturdiness. Although it's true that the new site we chose was close to true hazels and was near oaks and bitternut hickories, our specimen receives very little moisture, unless I take pity and water it. Although it was called
water-witch
because the forked branch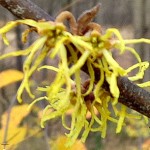 es were used by pioneers to tell where to dig for a well our witch hazel roots stretch down into soil is rocky and sparse .Because it is under maple and ash, it gets little sun. For all of this, slowly the shrub has grown as it acclimatized to yet another location. So far it has not been troubled by marauding deer. Now, ten years after it was moved, it is taller than I am and this autumn, after other leaves have fallen, the witch hazels leaves changed to a rich yellow, and the lovely petals covered the branches.Even today, when my garden has lost all its color, and it's cold enough outside that I can see my breath, I crunch through the first snow and see the yellow, witch-like petals still clinging to the bare branches, along with small ochre leaf buds, a promise for next spring.