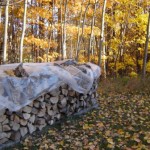 Recently I returned to a wood heat article in a Vermont Life magazine from the 70's. It was illustrated by pictures of many creative and unusual ways Vermonters hoarded their woodpiles for winter warmth. Looking at the pictures reminded me of how envious I was then. In those days, while we lived in rented houses, wood heat was only a dream for us. In fact, it's taken us forty years to bring wood fire into our home, and we're relishing it.
Just as we designed it to be, our wood stove is the heart of our home and we've taken to the whole experience. Providing heat has become an art which gives a rhythm to our winter days, but really, the process begins for us in June. My job then is making sense of the immense dump of wood delivered to the back of our house. Even after four years of experimenting and advice from friends, I am still learning to achieve a well-crafted woodpile. The Vermont woodpiles of long ago look more impressive to me now I'm part of the process at last. All through June mornings before the sun makes working too hot, I sift through what we've bought, seeing old friends in the wood pieces, beech, and maple and oak, thanking them and sorrowing for them. After failures my first two years, where poorly built corners humbled me by collapsing about my feet, I am learning to weigh and  balance and look for shapely pieces to fit tricky spots. Sure, I could drive rebar rods in at the ends to steady the pile, but the balancing game has become part of the process for me. When I have it, I make my corners from yellow birch to honor this special tree. All summer and most of the fall, the wood sits drying, a satisfying promise of comfort later on. On walks, I look for stray windfalls of birch bark and twigs to supplement the kindling Barry supplies.
There has been so much to learn as we bend to the rhythms. Splitting our massive chunks, so they will burn better, Barry has learned the qualities of the different woods from the inside. It is on bitter days that woods splits best, he tells me.
It is now, as the cold clamps down on us, that the pleasures of wood heat become real to us. Bringing in logs, a job we often share, building long-lasting fires to keep the swirling, dancing flames alight, slow evening fires with the screen on and the sounds of cheerful crackle, cats sprawled basking on the rug, as close to the heat as they dare, and morning roaring fires to clean the chimney and remind us to respect our heat source all are part of the experience. A tall enameled sky blue pot filled with water simmers on the surface providing humidity, and occasionally during frequent power outages we have enjoyed the comfort of hot tea and soup, cooked on the wood stove.
By May, likely we'll be content to close the door on the last of the wood, but always looking forward to another season.