Peri McQuay Author and Maker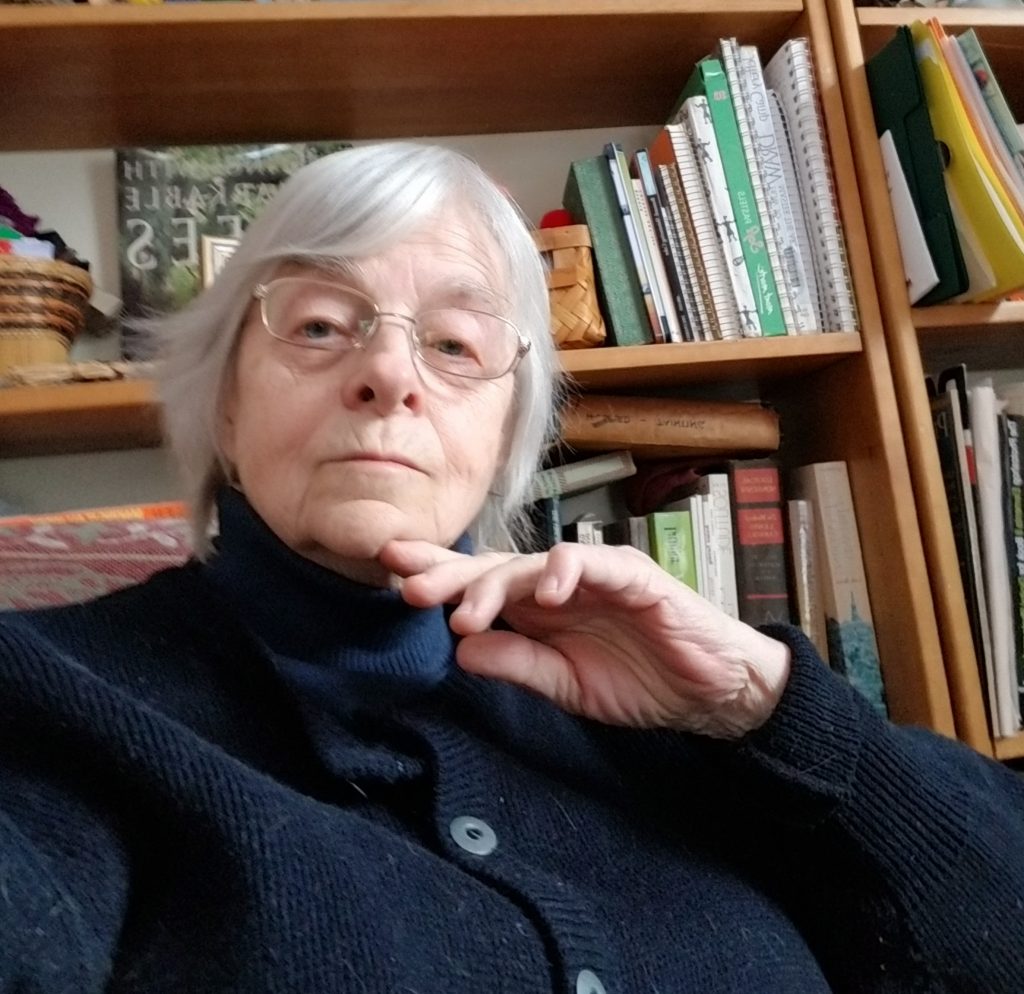 REVIEWS
Author Peri Phillips McQuay broods on nature with a great love. She and her husband, Barry, must find a new home. Their journey is one to the heart of living, from the Polygala orchid she finds, to the oak tree, to her guest visits of flying squirrels. There is much to be understood from such gentle writing. And even more to be gained from the pattern language of her country life. Diana Beresford-Kroeger –author of The Sweetness of a Simple Life and The Global Forest
She is a skilled writer who can apply her precise and confident prose with equal success to beauty or violence…McQuay knows her land, knows it inhabitants, both plant and animal, like a first language. Because of this she has written  a compelling tale about wild places and wild and half-wild creatures and what it feels like to be around them that rings with authenticity. Washington Post 
On a late winter evening five years ago,  I was sitting staring at the cascading flames in the window of my well-stoked woodstove. It was a month after my dearly-loved husband Barry died of what his doctors called "a particularly catastrophic form of cancer." As the shock wore off, I was beginning to recognize that after 47 years of marriage I had no idea who this new single me was, nor what I wanted to become.
I waded through the horrible chores that are left after a death and I fumbled simply to take care of myself—to feed myself, to bring in firewood and keep my fire lit. When people asked, as they often kindly did, "How are you?" I could only respond with a weak smile "Overwhelmed." To be honest, I didn't even know what "you" that would be. (Or probably not "how" either)
In the hospital, over the long nights when I sat by Barry's bed with my arms stretched across his heart, trying to breathe with him/for him, it was easy to know that I was given a gift of more life, a gift which Barry was denied. What I wrote soon after he slipped away was:
My task now, in the midst of unspeakable grief, my gift to my beloved life partner, is to learn to turn away from the shadows. While I am still given the astonishing gift of life, I want to face into the sun. Barry, and the ravens, and the feathery pine trees would expect no less of me.
But that evening, as I watched the flames dwindle, I felt challenged by a path ahead which no longer seemed either simple or clear. Without my profound, complex but nurturing marriage, and faced with a solitary future, I could only feel utterly lost.
Dimly, I was aware that I needed to reinvent myself completely. Even more than I had lost my husband, I had lost myself. Over so many years my life had become so entwined with my husband's that it was inconceivable to do this. To survive, I recognized that I would have to grow into a completely new way of living, but I had no idea of how to do that and I could find very few roadmaps to help me .
I remembered poet Robert Frost's poem The Ovenbird and his question: what to make of a diminished thing? Something very small flickered along with the flames. For all the uncertainty of forging a new path, there might be something undeniably exciting about discovering the gifts of my new and different life.
How could I reach out to life, let life in?
Hope.
I knew that for me personally to survive, and indeed for our threatened planet also, sustaining hope would be essential. How could I relearn the practice of  hope?
Reading. Yes, always. I would start with sages like Mary Oliver. My dear friend Tanya had lent me Thirst, Oliver's poems about her own loss. I would start there.
Revisiting. Could I, or did I want to play the piano again, weave, go for big walks into the hills?
Awareness. After the numbness of Barry's dying and loss, it was time to cultivate that again. Bit by bit.
Appreciation. The corollary of this awareness I was going to work for would be appreciation of small things.
Living openly. I wanted to learn to say "yes" more than "no."
Choosing love. If there was one thing Barry and I had learned while he was dying it was always to choose love.
As I rose and damped down the fire for the night, I knew I had a sketchy beginning for my new path.
And now, after six years of working at, but also easing into, what it means for me personally to face the sun, I have a lot to share with you. And right now feels like a good time to start.
What I am learning is that I can indeed live well, but that I must go forward in a way that is small, but, as Mother Teresa advised, with great love.