The country life I lead is rare, precious, and endangered. I am profoundly aware that the earth, our matrix, is dangerously wounded. And yet, my signature for my nature books remains "
Rejoice in wildness."
In small pockets like
Singing Meadow,
the twenty country acres where I live and write, the shadows of great grey herons still pass over my head on their journeys from nearby Bobs Lake to their stick nests in a pond behind our home. At night I can safely stand in the middle of our dead-end road, staring at the clear, deep sky full of stars, hearing no sound but a glee of coyotes, spilling over a distant hill. Now, without my beloved husband Barry, [
I will write more about coming to terms with this huge loss in a few of the blogs to come
] I face the raw essence of solitude in all its aspects, bad, but also good. In these difficult times, I want to write appreciatively, curiously, and only occasionally sorrowfully, about what the remaining gifts of my life mean to me. So this will be my letter to all of you who are unable to be here, greeting the first song sparrow of spring, watching the ice go out from the lake, catching sight of the first flash of the returning kingfisher, reading eclectically, pausing to study a meadow hawk dragonfly, letting my favorite shuttle fly through my weaving, or plunging my hands into the garden soil I've helped build. No doubt this blog will evolve in time, and your suggestions and comments are welcome, but things I see including are the difficult practice of simplicity, a delight in creativity and the land, always and most importantly, the land.
What I am asking is: What does it mean to live fully with the time that remains?         
 _________________________________________________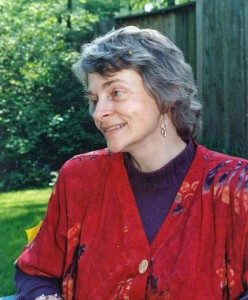 Peri McQuay became committed to nature through the inspiration and teaching of her Canadian artist parents,
Ken Phillips and Marie Cecilia Guard
. For thirty years Peri and her conservation educator husband Barry took joy in living, working at Foley Mountain. This eight-hundred-acre conservation area of granite ridges, beaver ponds and towering pines overlooks the beautiful little village of
Westport
in eastern Ontario. Currently she lives and writes, at
Singing Meadow
, near the shores of Bobs Lake