My beloved grandmother gave me gifts to guide me on my life's journey.
Her main wish was that I would practise a faith "because it would be a comfort to you". And in my own way I work at that every day, and it has become my foundation.
However what I am remembering here is that she also taught me to prize handwork, both as a survival skill and a steadying pleasure. Her own needlework came from the Depression, and so was shabby. But it was made with love and enthusiasm.
From my earliest days I watched her turn her hand to helpful projects with more zeal than skill. Ever happy to help, in the late forties, when I was a small girl and my parents did not have money for a winter coat for me, she cut up a man's old woollen coat, and working at her trusty black and gold Singer sewing machine she fashioned me a jacket which kept me warm, if not stylish. She also knitted me many pairs of scratchy woollen mittens which were attached to each other with crocheted strings, so they wouldn't get lost. There were quilts spread over our beds, quilts of flimsy fabric, scavenged from old cotton house dresses, pieced into pinwheel patterns with questionable hand-sewing, designed only to get the job done as quickly as possible.
It must have been a delight for my grandmother, who only had sons, to have a granddaughter to play with. Assorted teddy bears got refurbished as needed, perhaps with garish plaid patches, and of course, rudimentary dolls' clothes were created, sometimes with me standing by her side watching the needle slide in and out joining the pieces of fabric. Through all of it there was an unspoken but fervent sense of her great love for me.
(Only when I was set up with a small embroidery hoop and a threaded needle did I realize that hand sewing was much more frustrating and difficult than it appeared when I watched my grandmother.)
Going down town to Kresge's or the Five and Dime in search of loot for her projects was one of her greatest pleasures. After a thoroughly satisfying morning of rummaging, she would trot home triumphant, to draw out of her handbag a fistful of skeins of garishly coloured embroidery floss and a small paper bag of assorted spools of sewing thread, which had been on sale and which were bound to come in handy.
When I was a teenager I learned that her handwork could be a gift for others. My grandmother gloried in scrounging remnants of cloth, and from these she spent her evenings cutting and sewing aprons in several different patterns, at least fifty of them, her contribution to her church bazaar. (Her best-seller, she told us, was specially designed with a pocket holding clothespins, useful for pinning washing to a clothesline. These aprons, although neatly made and useful, were hardly tasteful, combining whatever spare fabrics she could find.
By then, she was going to a snooty Oakville church, and I suspect the ladies' group looked down on my grandmother's contributions to their sale. But it would have been hard for them to argue with her, because, as she always proudly announced, her useful aprons sold out, with special requests for more.
Later, in the desolation of widowhood, when she no longer was surrounded by the cheery comings and goings of many relatives, she decided to crochet me an afghan. This year-long project, I suspect was to be as much a comfort for her in her loneliness as a gift for her beloved granddaughter, now gone away to university. As you can see in the picture above, the colours are garish, the materials second rate, but I'm certain that each tidy stitch was a landline for her. And in the years since, I keep this afghan, stretched across my couch as a reminder of my grandmother and her love of handmade textiles, which now also has given me so much joy.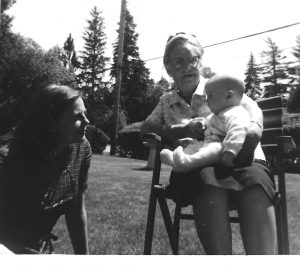 Some of my blogs will be about making and makers. What I am celebrating in these are resourcefulness, self-reliance, but most of all, the sheer pleasure and comfort of making things by hand. In time I also hope to include examples of later life creations from friends, all of us saying "We are still here. Our lives matter."