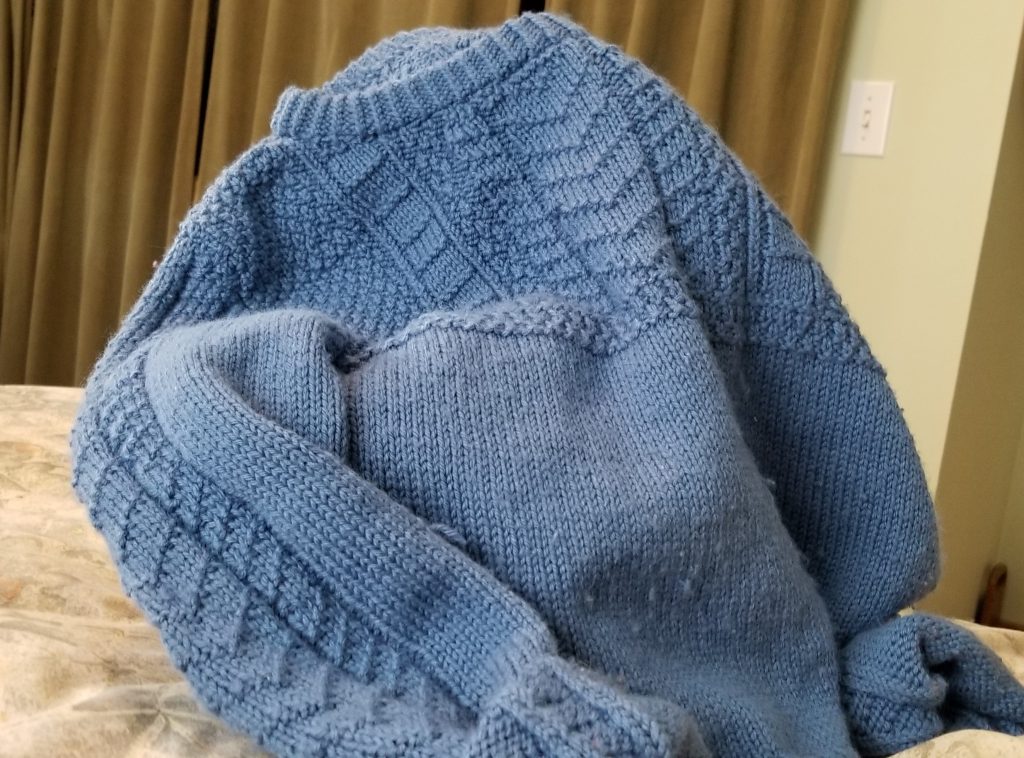 Today I am writing about a new beginning, a fresh start.
Eventually I became strong enough to begin to reflect on what a new life without my husband of 47 years might consist of. Just as Singing Meadow, my story of how we came to leave Foley Mountain and build a new home near Bobs Lake had been due to released, Barry became seriously ill with a fast-moving cancer. When it became clear that it would be impossible for me to take part in the publicity work we had planned, my generous publisher Rena Upitis agreed to a very necessary postponement. This gave me time to consider what I might do with what was left to me. Meanwhile, in a patchy way, just like freezing after a dental visit, I discovered that my numbness was beginning to evaporate.
In my clearer moments, as I began to consider what such a new life might include, self-care books encouraged me to seek out "comforting amusements". Start with something simple. This was when knitting, a friend since childhood, and which I knew well, suggested itself.
However, as I dug out my knitting basket and some pattern books, nothing felt like a "comforting amusement." Every bit of grief work was heavy slogging. It was so very hard to care about anything.
But, even more afraid of the empty silence around me than of reaching out to something I could cling to, resolutely I rummaged through a stack of treasured knitting books. Flipping through Elizabeth Zimmerman, I asked, "Perhaps a sweater?" A sweater to keep me warm through the winter? My favourite sky blue? I chose a fisherman's gansy, a technique I had never explored before, but which I thought would be easy enough to follow.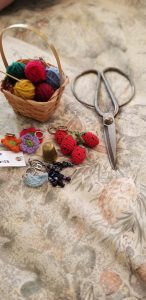 Before long I was tugging the package of skeins out of my mailbox and beginning  the rhythmic winding of the yarn into fat balls. Each new ball I popped into the basket felt like a ridiculously big accomplishment. In my new motto of small and slow, I let myself savour every bit of this new beginning. After I cast on, (put stitches on my needle) following the old familiar steps I had learned as a girl made me ridiculously happy. If I had wondered whether my long absence would mean I had lost that skill, watching the work slowly progress to hang from my purple wooden needles I was pleased to rediscover my fingers' innate memory. Knitting this way felt as I imagine telling rosary beads would be. Each round of 200 sts became an accomplishment through which I relaunched myself into the flow of handwork.
I had chosen the pattern for its simplicity, little sculptured v's of purl stitch knots which reminded me of wings, on a plain background, but my concentration, always shaky, betrayed me more times than I would want to admit. Inevitably there was much ripping out. All too often I lost my way in what had seemed to be a simple pattern of purl bumps. When I was younger and less patient, my temper might have snapped. I might well have fudged my many mistakes, hoping, vainly, that they might not bother me too much later on. (They always did.) But now the redoing just became part of the knitting. For the time being, whether I was ripping out the stitches I had painstakingly created, or moving ahead, this pleasing process was all I needed to do.
Yes, I did continue with my writing, fumbling to reconnect with expressing myself in words. It is part of me, and I needed to renew my ties of it. But when I became snarled in writing knots I let myself slip back to the living room and the fire for twenty minutes, sinking into a brief sanctuary where I let my fingers play with pretty woollen loops. Knitting was steadying. It gave my life balance. And indeed it was a beginning to rediscovering fun.
[Soon, as part of my celebration of my, and others' handwork, I want to write another entry about my life's journey with knitting, a pleasure since the days when I knitted toy animals, through complex cables which reminded me of tree bark, to the dance of colour work. So many things to discover.]