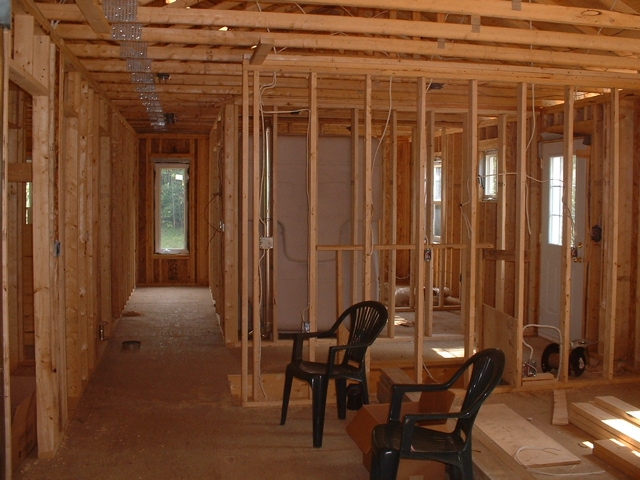 I'm remembering Barry tonight.
One June evening while our house was being built, he said to me "You really need to see what the house looks like from the inside. It's starting to feel like a real house!" Then he played his best card, "Now the windows are in you can really see how the views are going to look." As I always said when we had this conversation, much as I hungered to see how my new house was looking, I had to refuse. I  reminded him that Peri's had never been good at climbing ladders and that I simply couldn't face climbing a shaky ten foot one which began down in the open footings' trench. What I dreaded most was manoeuvring my clumsy body off the ladder and through the open doorframe.
***
Once again, at twilight, we had driven over to the Singing Meadow to prowl. The golden moon was rising over the valley, and in the dim, the exquisite wood thrushes' calls were surrounding our partially build home. Leaving me sitting under the maple trees, Barry ran up the ladder and into our skeleton house, checking to see what the builders had been working on that day, and then he returned to report to me.
After a long silence, he suddenly decided, "Ok, you're coming up. You can do it." He put his arm around me and led me around to the very tall ladder. "Come on. You have to come too. I'll be right behind you."
Ohhhh. I set my foot on the first rung. Not so bad. One more and another. I could feel him breathing over my shoulder. So far so good. But half way up I felt the bounce of the ladder, looked up at the floor above, with nothing to grab on to and down to the trench below and felt hopelessly giddy. Wobbly and ashamed I whispered "I can't. I want to but I can't. I just can't."
But right behind me was Barry, with his warm, strong body. "You're going to do it. You can. You're almost there. I want you to come too." He virtually pushed me up the last few rungs, and thrust me up onto the plywood floor of our new house.
And yes, it was magic, it was everything I'd ever dreamed of, in the fading light going hand in hand to explore the windows which we had chosen so carefully and had dreamed of, to play at sitting by a fire, having friends at a dining table in front of the big windows.
***
Although I dreaded the descent, I was surprised to find it was easy. The next day when I visited the builders, I even impressed them by climbing up into our new house on my own.
But all of this came about thanks to Barry. He never made fun of me, was always surprisingly patient, even through the long years when I was laid low by Chronic Fatigue Syndrome. Always he insisted that I "come too."
***
As I think of it, this was what he and his teaching were always about. His eyes darting about a group, he wanted to make sure he had gathered everyone into his circle, charging and charged by his listeners' enthusiasm. "You come too," he invited his listeners into his circle, as he told them what was different about fox tracks, or what you needed to know about dragonfly nymphs, or why the evolution of a beaver pond was so important.
***
You Come Too. Actually, I've lived with that invitation from Frost's small poem, The Pasture, since my restless nights in childhood, when my father would set aside his exhaustion and sink onto the edge of my bed, reading me to sleep "I sha'n't be gone long.—You come too…"
***
Through long years when Barry believed that I should and could come too, no matter how frail I was, the importance of inclusion has stayed with me.
Now, around my home it's June and it's dusk again on a summer night. The leaves are silent. The crickets have stilled. Down in the bowl of the beloved valley a distant whippoorwill begins. Now, late in my life, I'm fumbling my way alone, sometimes only one foot in front of the other.
But this is why I write—the only reason why I write—The resounding beauty of the dailiness of life before it's too late–You come too.