The horror of that moment," the King went on, "I shall never, never forget!"

"You will, though," the Queen said, "if you don't make a memorandum of it."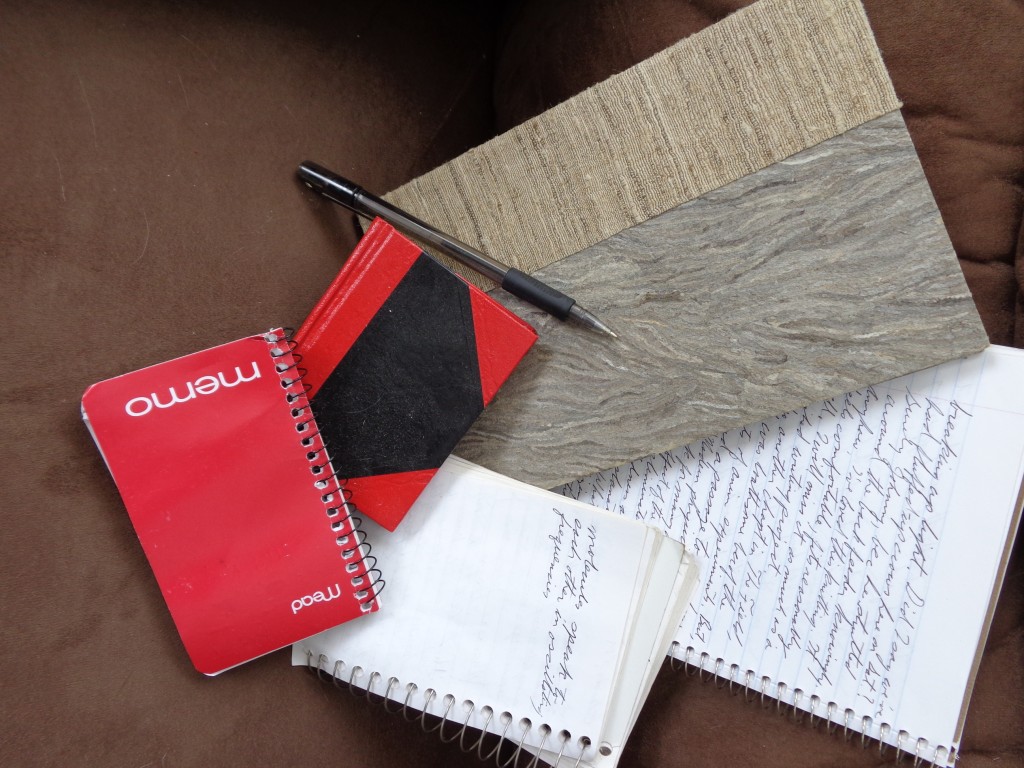 And yes, like Alice Through the Looking Glass' White King, I would be lost without my notebooks. And I'm always on the lookout for a new and improved version, to help me not just remember, but to mull over what I actually think. This activity is best, performed, it seems, by jotting down of a sketchy version of the rich complexity of my everyday life.
Helped by friends, who discover what they hope will be a hand-sized or pocket-sized little gem, I have an expansive supply of notebooks of all kinds. There are tiny, spiral-bound ones to slip into my jeans when I go on a trek up the great ridge to listen for the first wood thrush of the year. No matter how much I'm sure I'll remember, the White Queen is always right. When it comes to transcribing these notes later, I'm always surprised, and not in a good way, but how much my memory leaves out.
Actually, my notebooks compose the spine of a writer's life. A favorite for all-purpose work is the hard-to-find  Hilroy 5 1/2 inch by 4 inch spiral. If I flip back through its latest incarnation, which sits beside my big brown chair by the window, I find everything from a Thanksgiving grocery list, to composer Ralph Vaughan Williams' Norfolk Rhapsody, several summer to-do lists, now as finished as they'll ever be, a quote I liked from author Patrick Lane, a possible system for cataloging our dvd's, a recipe for a Japanese rice paste stencil resist, links for two publishers who might be a good fit for my writing, a link to the public domain version of Bent's superb Natural History of Birds, and much more. As I flip the blue cover closed, I loiter over a thought: "If I slow down the process I think better," True. Why don't I aim for this more often?
But prizing notebooks is much more than capturing remembrances and random ideas. If there is one piece of advice to writers which tops every list, it is the practice of committing to writing daily. I've learned that for me this need not be, and indeed probably shouldn't be sequential, well-explained journal-writing. The closer I come to random play, trusting the feel of words, and not judging, the more satisfying and helpful this habit is.
For a while, I used my laptop for my morning jottings, mainly for speed, but I've learned that the feel of pen on paper, and maybe even the thoughtful shaping of letters on the page, and there it is again, the slowness, actually are an important process of freeing myself for serious writing later on. For this, I prefer a spiral six inch by ten inch book to the slightly more expansive school binder size. It just fits me better, freeing me to write daily, as I know I must.
Perhaps the most prized of my notebooks, and shown in the picture above, is a journal made by my friend, bookbinder and artist Tanya Deacove. Remarkably, it has a cover of grey, marbled wasp paper. This beautiful book was a gift from my husband, Barry, and I used it to chronicle the first months of our life at Singing Meadow.